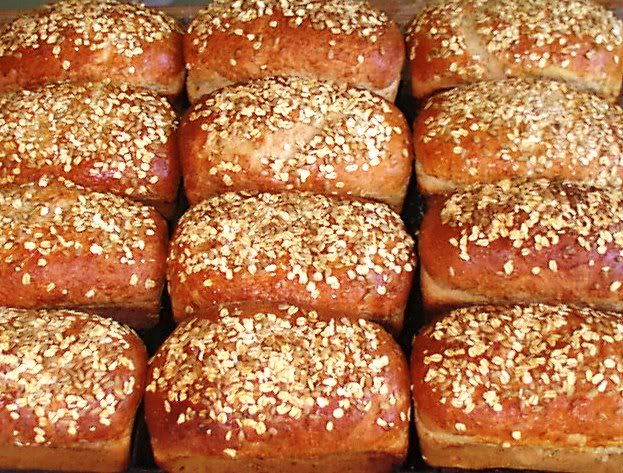 If you want to begin a farm life there is no better way to start than by baking bread. Over 21 years ago when I was a young wife, pregnant with our first baby, I began to imagine what kind of home I wanted for my family. I dreamed of children playing at my feet, cloth diapers hanging on the line, the soft clucking of chickens in the yard and the smell of fresh baked bread wafting from the kitchen. This Honey Oat Bread is the epitome of soft fluffy childhood sandwiches made with love in mama's kitchen. Nothing says 'home' like home made bread.
Ingredients
3 cups bread flour
3 cups whole wheat flour
1 cup rolled oats
2 cups milk, buttermilk or whey
1 cup warm water
1/3 cup honey
1/4 cup oil or melted butter
1 Tbsp salt
1 Tbsp sugar
2 Tbsp instant yeast
Directions
Combine 3 cups whole wheat flour with 2 cups buttermilk cover and set aside for a few hours or overnight.
Once the whole wheat has been soaked in the buttermilk, in a separate bowl, combine 1 Tbsp of sugar and 2 Tbsp of yeast with 1 cup of warm water. Stir to dissolve the yeast then let it stand until foamy. Add the buttermilk soaked wheat four and the remaining ingredients. Mix in an electric mixer for 7 minutes. Let rise 1 hour. Punch down, form into two loaves. Let rise over the top of the pan, about 30 minutes. Brush top with egg and sprinkle with oats. Bake at 375F for 35 minutes.